Katy Guillen, Claire Adams & Stephanie Williams Special Acoustic Songwriters Show in The Gospel Lounge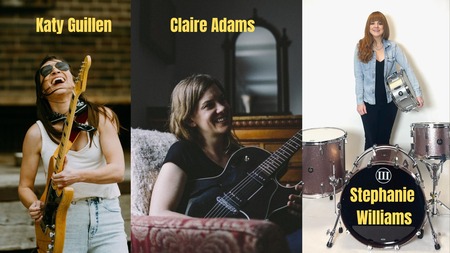 Under 21 with Guardian


Katy Guillen
& The Drive is founded on the energetic creative spark and longtime chemistry between Katy Guillen and Stephanie Williams. With Guillen on guitar and vocals and Williams on drums, the two sculpt a sound that recalls a blend of artists like Led Zeppelin, Patty Griffin, and Heartless Bastards.
After 6 years of touring, writing, and recording together in their former band Katy Guillen & The Girls, the pair forged ahead with their undeniable dynamic, crafting a brand new catalog. KG & The Drive kicked off their very first tour supporting renowned guitarist Robin Trower, playing The Filmore in San Francisco, CA and The Wiltern in Los Angeles, CA. Their sound is rooted in Guillen's emotive guitar style, poignant arrangements, and a captivating show that showcases Williams' technical, melodic style, resulting in a striking live experience.
Into the next chapter Katy Guillen & The Drive push ahead with a melodic, heavy, and soulful sound while maintaining the edge of the artist's rock 'n' roll and blues roots. Guillen calls their genre-bending style "indie roots rock." Their newest release, the first installment of a two-part musical voyage, "Battles" was culled from a sizable batch of songs and demos crafted by the pair throughout the pandemic. In April 2021, they traveled to Invisible Creature Studio in Los Angeles to track the four-song EP with producer/engineer Kevin Ratterman (My Morning Jacket, Heartless Bastards, Ray LaMontagne). 2022 takes the band on a touring schedule with dates across the country in the spring and summer, as well as a full-length release on the horizon.
https://katyguillenmusic.com/


Claire Adams
Musically curious and multifaceted, Claire Adams has spent more than a decade touring, recording and songwriting to hone her melodic instincts and vision. A bassist, guitarist, singer and songwriter, Adams has lent a discerning ear and versatility to a number of projects.
Picking up guitar as a teenager, Adams was immediately drawn to songwriting. Her penchant for wordplay and melody led her to Nashville to study, write and perform, sparking an interest in traveling, touring and working in collaborative environments.
Upon returning closer to home in 2010, Adams set up shop in Kansas City, Missouri, and founded the eight-piece genre-jumping collective Claire and the Crowded Stage – a project that united her pop sensibilities with non-traditional instrumentation. This project teamed her up with guitarist Katy Guillen and drummer Stephanie Williams, leading them to form the nationally touring blues-rock trio Katy Guillen & the Girls in 2012, with Adams on bass and backing vocals.
2020 finds Adams performing solo, collaborating with the KC based string quartet Rewound, and in a trio featuring pianist Alyssa Murray.
https://claireadamsmusic.com/