Lone Jett (Joan Jett Tribute), Blondage (Blondie Tribute) & Pyromaniacs (Def Leppard Tribute)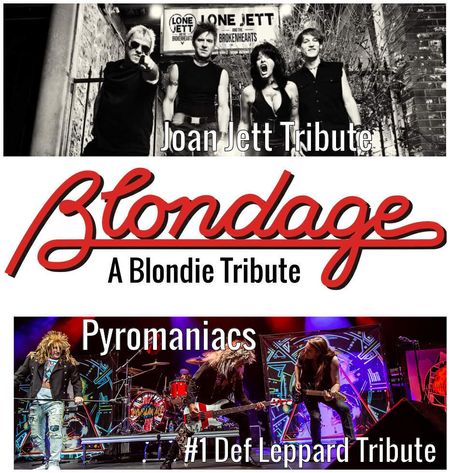 Under 21 with Guardian

Order of acts - Blondage, Lone Jett then Pyromaniacs
Lone Jett

In August 2021, Lone Jett & The Brokenhearts, a Tribute to Joan Jett, had it's debut on the Full Throttle Saloon stage at the infamous Sturgis Rally in Sturgis, SD. As of October 2021, DEANN has expanded the tribute to booking at festivals and events throughout the Midwest.
https://www.deannofficial.com/


Blondage

Blondage is the premier Blondie tribute located in the Midwest, playing alongside her sister act Lone Jett & the Brokenhearts.
Whether playing a club gig, or private parties or events, Blondage recreates the magnetic persona of Blondie.
With spot on vocals and imagery of a vintage 80s look, BLONDAGE recaptures fans and brings a new generation to know and love - Blondie!
www.blondagekc.com


Pyromaniacs
Pyromaniacs, the premier Def Leppard tribute is the most talked about tribute band in the Midwest! Delivering an experience of sight and sound unmatched by any other Def Leppard tribute. The looks, the screaming guitar solos, and impeccable vocal harmonies! Pyromaniacs is made up of stellar musicians from St. Louis Missouri. All deriving from successful bands. They've traveled extensively and have performed at some of the most incredible venues and festivals. Including the world famous Full Throttle Saloon in Sturgis at the annual bike rally, the Family Arena in St. Charles Missouri. Pyromaniacs, the true Def Leppard experience that will rock you into hysteria!
https://thepyromaniacs.com/