Plains (Katie Crutchfield of Waxahatchee + Jess Williamson)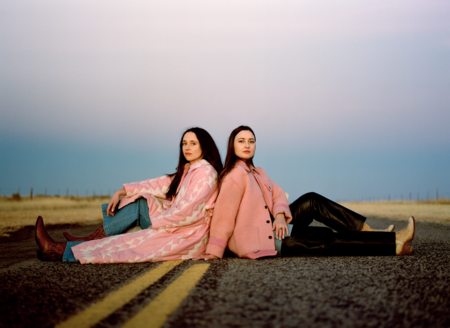 Under 21 with Guardian
Today (July 27th 2022) Today, Waxahatchee's Katie Crutchfield and Jess Williamson announced an album titled
I Walked With You A Ways
for their new collaborative project, Plains, alongside the release of a video for the album's lead single "
Problem With It
." The record and its accompanying North American tour, also announced today, is a one time only collaboration, which makes Plains incredibly special. It's a moment in time, to be enjoyed right now before the project evaporates forever.
Hitting play on the debut album from Plains, the duo composed of Waxahatchee's Katie Crutchfield and Jess Williamson, we're immediately teleported into a world of Southern sunsets, wide open spaces, and the unapologetic nature of Country music.
Plains began out of Crutchfield's and Williamson's mutual love for each other's music and after trading albums (Saint Cloud and Sorceress, respectively) in early 2020. Feeling that it was time to have a separate project that could reflect a different side of her creative inspirations, Katie felt that Jess was the perfect fit for a collaboration, and they set off to create I Walked With You A Ways.
Written between Kansas City, Los Angeles, and Marfa, the album was recorded in Durham, NC with collaborator and producer Brad Cook. The creative magic of only a few vocal takes, tracking with a band comprised of Spencer Tweedy and Phil Cook, gives the album a feel of fresh, on-the-spot conception. The trust and history of Crutchfield and Cook's collaborations (Saint Cloud, Great Thunder EP) set the tone for this new container of spontaneity and experimentation.
With both being from the South, we hear the history of place and story in each song: Texas meteor showers, family ties, and the lineage of songwriters who have come before.
As solo practitioners of the craft of song, Williamson and Crutchfield bring a creative permission slip to both the process of songwriting itself but also to the listener. In both of their solo projects you hear a specificity of experience that is so sharp and intimate that it brings the listener into a personal side of the experience of life. With Plains, we are invited into this spaciousness of story, to a shared narrative spanning the beginning of the album to the end.
"Summer Sun," the opening track, greets us with their two voices in perfect unison and sets the tone for the album - "come along with us, we'll be here for you the whole time." We're catapulted into what feels like a small show on the back porch of a house in West Texas. There is an essence of their own friendship that clearly emerges that is just as much about joy and playfulness as it is about two people ushering each other through life's great journeys.
And that's the thing about Country music, and what so much of this album nods to - from Waylon and Willie, to The Judds, The Chicks, Trio, and beyond - these are groups that are formed out of family and friendship, that lyrically take their listeners on a voyage of sorrow and hope. Crutchfield's sharp, honest edge of truth telling paired with Williamson's ability to paint the scene with candles, plains, sunsets, and small Texas towns is one of the strongest parts of this album. "When the summer sun melts candles / I dig out the wick / Honey we're up against somethin / Our love alone can't fix / So I won't see the garden or the figs when they are ripe/ It hurts to be leavin, but I know that stayin ain't right"
Crutchfield brings us through what we all could stand to strive for: Setting affectionate boundaries and expectations of how we want to be met and loved in relationships. She recalls that in her solo project she might not have kept the lyrics heard in "Problem With It," but Williamson encouraged her to. It gives the song that directness of sharing our intentions and needs, while also acknowledging the parts of ourselves that get lost when we try to contort ourselves for someone else. "Justified it in my own way / I lost myself in it / If it's all you got, it's enough you say / I got a problem with it."
In "Hurricane" we are reminded that there is nothing that stops these two women from saying exactly what they mean and meaning exactly what they say. There is a formula they have developed that insists we embrace our anger, that we let it flow out of us in a way that doesn't have to imply harm from others but also doesn't take the blame off of them. Crutchfield has a way of laying out her mess, her mistakes, her regrets, the parts of herself she may want to turn away from - and instead decides to turn towards them in service and song.
"I come in like a cannonball / I've been that way my whole life / Sweet as honeysuckle / When you want a pocketknife."
In "Abilene," Williamson again provides us with geographic scenery in her recitation of the name of this town. We can feel ourselves in that place and the question that weaves its way throughout: How do we keep love close and when do we let it go? When is forgetting just as important as remembering? "We don't need to talk about Abilene / Cause Abilene don't mean / No couple acres, no screened in porch / So I don't talk about Abilene no more."
While Williamson sings "Texas in my rearview / Plains in my heart" and Crutchfield echoes "Got a heartbreak burn, take the quickest route / On this 4 lane highway I'll trace it in the clouds," the true gift of this album emerges. We're in the backseat with these two, truck windows open, wide open spaces in front of us. The feeling of being both a mess and unstoppable at our fingertips. May this album bring us all closer to ourselves and to each other.
Marlee Grace