Ruston Kelly: The Weakness Tour 2023 with Special Guest Briscoe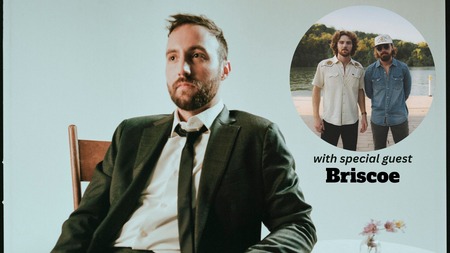 Ruston Kelly

VIP package available


One admission ticket
VIP early entry into the venue
Intimate "stories behind the songs" soundcheck performance by Ruston Kelly
Exclusive Q&A with Ruston
Collectible tour poster, autographed by Ruston Kelly
Commemorative pre-show VIP laminate
Merchandise shopping opportunity before doors open to public
Limited availability 
Ruston Kelly
Before setting to work on his third album, Ruston Kelly moved out of his Nashville home and into
an old Victorian bungalow in the small Tennessee town of Portland, then spent months on end in
deliberate solitude. As he busied himself with remodeling his house and tearing through a stack of
John Steinbeck novels, the South Carolina-born singer/songwriter began processing a number of
life-altering changes he'd endured over the past year, including a very public divorce as well as major
upheaval in his immediate family. "I felt a real need to understand myself a little better, and to
rediscover the true foundation of who I am," says Kelly, who candidly detailed his struggle with
drug addiction on his 2018 full-length debut Dying Star. Pushing forward with the intensely self-
aware truth-telling he's always brought to his music, Kelly soon immersed himself in the making of
The Weakness: a blisteringly honest but profoundly hopeful album that ultimately reveals our vast
potential to create strength and beauty from the most painful of experiences.
"With every record I make, I learn so much about myself and who I am as a human and what type
of man I want to be," says Kelly. "In a way it's a form of self-help, or like I'm building a fort against
a lesser version of myself. Then the goal from there is to just keep on growing."
The follow-up to Shape & Destroy—a 2020 release that earned acclaim from outlets like NPR, who
also hailed Dying Star as "a brutal thing of beauty"—The Weakness finds Kelly straying from the more
self-contained approach of his previous output and working with producer/songwriter/multi-
instrumentalist Nate Mercereau (Sharon Van Etten, Leon Bridges, Maggie Rogers). "The way I'd
always worked in the past is that the song comes first, and the production helps to lift its meaning
and intent," Kelly explains. "But this time there was a much greater focus on creating a sonic
atmosphere that speaks just as loudly and feels just as emotional as the lyrics and voice." Recorded
at Mercereau's Studio Tujunga in Los Angeles, The Weakness came to life in a series of close-knit
sessions with Kelly mainly handling acoustic and electric guitar and Mercereau playing over a dozen
instruments (including Mellotron, flute, French horn, autoharp, fretless bass, violin, harmonium,
mandolin, and more). "I knew from the beginning that I wanted a large sound for this record—I
remember telling Nate at one point that I wanted it to sound like a storm brewing in a big empty
field," says Kelly, who names Daniel Lanois's work with Bob Dylan as a touchstone for The
Weakness. A bold departure from the elegant simplicity of his first two albums, the result is a
kaleidoscopic sonic backdrop beautifully suited to The Weakness' immense scope of feeling.
Opening The Weakness on a potent burst of energy, the album's title track emerged from a moment
of cathartic self-reflection typical of Kelly's writing process. "I started working on that song and the
refrain just kept coming to me: 'We don't give in to the weakness,'" he recalls. "The overall narrative
of the record is that there's a variety of weaknesses that I need to deal with, and a variety of
strengths that I need to bolster. I truly do believe that acknowledging your weaknesses and digging
deeper to understand yourself goes hand-in-hand with becoming a greater human being." Driven by
Kelly's raw yet graceful vocal work, "The Weakness" unfolds with a gloriously brooding intensity
that perfectly echoes its spirit of gritty perseverance. "I've always wanted to do a big rock song that
feels like it would completely destroy an arena, and I'm really proud that we were able to assimilate
that into all the different sounds we were exploring on this record," Kelly notes.
The first track that Kelly completed for The Weakness, "Mending Song" helped to spark the free-
flowing creativity that ultimately fueled all his songwriting for the album. Although he penned most
of the LP at home in Portland, "Mending Song" took shape during a solo trip to Joshua Tree. "I
rented this little cabin out on 22 acres, just me and the coyotes, and ended up checking out a shop
nearby and buying a baritone ukulele," he says. "I remember thinking, 'This is so stupid—I'm trying
to be that guy, going out to some cabin and writing my opus. Why don't I just have some fun?'"
Once he'd loosened up, Kelly came up with a jangly ukulele riff and opening lyric that soon gave
way to the autobiographical storytelling of "Mending Song" (from the first verse: "Something grew
up twisted in me/Ripping all the seams/But I was mended by the love of my momma/To fight the
devils down in me"). Threaded with sweetly ethereal tones sculpted through Mercereau's use of
guitar-based synth, "Mending Song" was built from a voice-note demo recorded in Kelly's L.A.
hotel room, amplifying its unfettered emotion to sublime effect. "You can hear the dryer running in
the background, but there's something really special about the feel of that recording," says Kelly.
Another breakthrough for Kelly, "Let Only Love Remain" marks the first song written about the
dissolution of his marriage. "For me the pain of divorce was similar to quitting drugs but somehow
way more intense," he says. "Even though drug use is tragic and takes many lives and dulls many
spirits, I somehow always had the hope that I would heal from that. But with this experience, there
was no rhyme or reason—I couldn't make sense of it, and for a long time I felt physically incapable
of writing about it." A quietly luminous track laced with heavenly French horn, "Let Only Love
Remain" arrives as a heavy-hearted meditation on love's immutability ("And we can take all the
days/Filled with pain that we wasted/And roll 'em into one/But it still wouldn't measure/Up to
what's forever/A love that cannot be undone"). "In the end my divorce taught me more than it
wounded me," says Kelly. "I didn't want to make a divorce record, but it was important to me to say
what I needed to say while also making sure to protect her heart."
In its endless excavation of his troubles and demons, The Weakness also offers up songs like
"Breakdown," an incandescent piece of alt-pop graced with crystalline beats and Kelly's achingly
delicate vocal work. "I wrote that at a time when there was a lot going on with my family and I was
trying to be there for them, but I felt stretched so thin," he says. "The song came from me admitting
I'm not superhuman, and somehow just saying that out loud made me feel more capable of handling
the pressure." On "St. Jupiter," with its shimmering textures and swooning slide guitar, Kelly brings
a bit of poetry to his expression of longing and regret. "In the second verse there's a reference to a
day when we were at the garden shop and it was so hot and I was just over it, and there was an
argument," he says. "That part in the song is about looking back and recognizing, 'Maybe I
should've just shut my mouth and let you buy those pots you wanted.'" And on the wildly anthemic
"Michael Keaton," Kelly spins another real-life incident into the album's most fantastically offbeat
moment (from the chorus: "It's 3:35 in the morning/And I thought CBD would not get me
high/But here I am thinking/What if Michael Keaton killed himself in Multiplicity?/Would that be
genocide?"). "That really did happen, but the song's mostly about experimenting with what it means
to be me," says Kelly. "At the time I was trying to date again and eventually realized that I needed to
step back from that, and just let myself live in that space of thinking weird stony thoughts at 3 a.m."
By the time The Weakness closes out with the hymnlike resolution of "Cold Black Mile," Kelly has
made his way to a radiant sense of conviction and courage ("And I might die a 1000 times/But I
know I can survive/I'll just keep on pushing down/The cold black mile"). A voracious reader, he
points to a passage from J.R.R. Tolkien's The Return of the King in contemplating the album's
underlying message: "His grief he will not forget; but it will not darken his heart, it will teach him
wisdom." "To me that sums up everything about this record: the idea that you can either fall under
the pain or you can stand on top of it, and then end up becoming a stronger person," Kelly says. "I
hope this music helps people to become the hero of their own lives by understanding their own
weaknesses a little better," he adds. "And I hope it helps them to see that tragedy, however it
manifests for you, doesn't ever have to be the period at the end of the sentence."
https://www.rustonkelly.com/


Briscoe
Briscoe is the Austin-based project of Truett Heintzelman and Philip Lupton. Briscoe was started
by Philip his senior year of high school as an outlet for his original music. Once together at The
University of Texas, Truett officially joined the band and the red-headed duo became official.
Together the pair has released an EP, "Briscoe EP."
The band recently sold out a string of eight residency shows at Austin's legendary C-Boys and
The Continental Club Gallery. The band had the opportunity to support CAAMP and Zach Bryan
and recently performed at Shaky Knees Festival alongside My Morning Jacket and Death Cab for
Cutie and Innings Fest with Tame Impala and Black Pumas. The band are currently working on
their forthcoming Debut album by Grammy Nominated Producer Brad Cook (Bon Iver, The War
on Drugs, Nathaniel Rateliff & The Night Sweats, Waxahatchee)
Briscoe draws musical influence from what many consider the golden years of music, the late
1960s to mid 1970s. Artists such as Neil Young, James Taylor, The Grateful Dead, The Beatles,
Carole King, and Paul Simon have influenced the pair musically and lyrically. With a variety of
instrumentation, Briscoe's live shows and studio recordings seem to stray in and out of genres,
but consistently showcase meaningful songwriting and unique melodies.
Briscoe continues to grow as a band as they pursue degrees from The University of Texas.
https://www.briscoetheband.com/
VIP Legal info
Package purchasers will receive an email (3) days prior to the day of the show with VIP check-in details. Information will be sent to the e-mail address provided at the time of purchase. Please note that the information provided at the time of purchase (e-mail and mailing address) is the same information that will be utilized for individual contact requirements. On Location | Future Beat, the artist, tour, promoter, ticketing company, venue, or any other affiliated parties are not responsible for outdated or inaccurate information provided by the consumer at the time of purchase. VIP merchandise items will be distributed at the venue on the day of the show. Merchandise not picked up onsite will not be shipped post-event. The laminate included in the package does not gain or authorize access into the venue (without ticket), VIP, or any backstage areas. Package details subject to change at any time without notice. All package elements will be rendered invalid if resold. Name changes will only be issued at the sole discretion of On Location | Future Beat. All packages and package contents are non- transferable; no refunds or exchanges; all sales are final. For questions regarding your VIP package, please reach out to info@future-beat.com.