Brandon Miller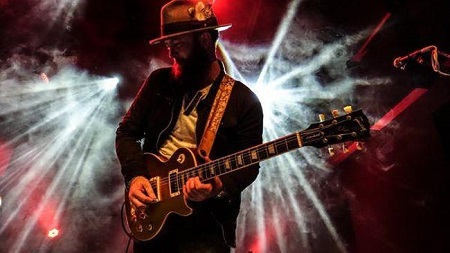 Friday April 2, 2021Doors: 7PM / Show: 8PM$17Under 21 with Guardian
10% off in gift shop the night of show*

Brandon Miller
Music has always been a part of Brandon Miller's life. From an early age, his dad would let him explore his record collection of Led Zeppelin, Genesis, Aerosmith and other classic rock legends. Miller spent countless days and nights trying to recreate the sounds of his musical heroes. After sculpting his sound for years, he formed the Brandon Miller Band, a powerful, guitar-driven blues-rock trio. Having released two, full-length albums and sharing the stage with artists like Jonny Lang, Foghat, Night Ranger and Eddie Money; Brandon Miller brings a fiery passion to the guitar that is unlike any other.
Born April 8th, 1990, Brandon grew up listening to classic rock from the 60s and 70s because of his parents love for music. Listening to the rock n roll stories of disc jockeys from a famous Kansas City radio station just stirred the fire of his love for music even more. When he first began elementary school, his older brother had begun playing guitar. Brandon would sneak into his brothers room to grab his guitar just to play around with it. Driving his brother mad because of his always wanting to play, Brandon received his first guitar for Christmas when he was seven.
His love for music quickly turned to dedication and devotion after he started attending concerts at a very young age. Seeing idols such as Kenny Wayne Shepherd, Eric Clapton, Joe Bonamassa, Tom Petty, Aerosmith, KISS, Rush, Fleetwood Mac, and Lynyrd Skynyrd, he wanted to take it to the next level of playing. He was learning very quickly and could start playing songs he was listening to. However, when he was around the age of 11, his frustration began to show. He couldn't recreate the solos and difficult guitar work which made him sit his guitar down and didn't want to touch it. He didn't play as much as what he used to and the music bug hadn't completely bit him yet.
https://brandonmillerkc.com/
*10% off in Knuckleheads Gift Shop with advance ticket
Valid day of show only on in stock items
Excludes gift cards, concert tickets, and artist merch