Paul Cauthen w/ special guest Taylor McCall (This will be on the outdoor stage)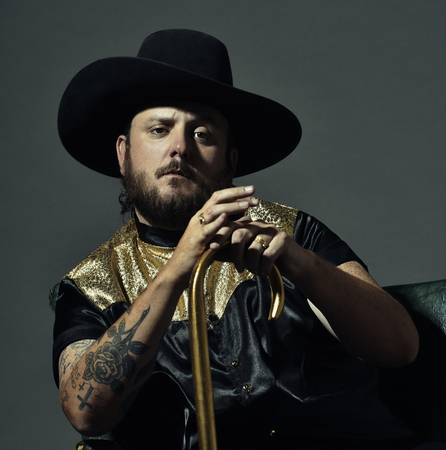 Under 21 with Guardian

Want to get a bead on Paul Cauthen?
Good freakin' luck -- especially on his third album, COUNTRY COMING DOWN.

Suffice to say that the singer, songwriter and proud son of Tyler, Texas -- steward of a rich, resonant, bass-leaning tenor dubbed Big Velvet -- covers a lot of ground and embodies a lot of characters. He'll tell you right off the bat that he's "Country As Fuck," throwing down a wad of "Fuck You Money" and heading into the night to "Cut a Rug." His "Country Clubbin'" has as much to do with swinging as his swing. But a song or two later dude's vowing to be loving his wife "Till the Day I Die" and, in COUNTRY COMING DOWN's title track, dreams of living in "a cabin in the country, far away from the city lights" where "life is slow and easy."

The fact that all of that exists within the same guy, who's full of good humor, sharp wit and a heart as big as his home state is what makes Cauthen someone who's easy, and exciting, to spend 10 songs with.

"Y'know, you got your bangers and you got your ballads," Cauthen acknowledges. "You got your meaningful songs where you're opening up more of your vulnerable side, and then you're putting on a fucking show -- all in one album. And it's all honest, I'll tell ya that. Everything on there is something I've felt or thought before."

COUNTRY COMING DOWN has been in motion awhile, actually. The title track, one of several co-writes with good Nashville pal Aaron Raitiere, has been around since before Cauthen's dark sophomore album ROOM 41. Its sense of campfire calm and "damn near off the map" idyll set a bar, for both music and lifestyle, that Cauthen aspired to, while the rest of the new album, recorded at Modern Electric Sound Recorders in Dallas with regular collaborators Beau Bedford (Texas Gentlemen) and Jason Burt (Medicine Man Revival), shows that Cauthen was able to get there without losing any of the playful "hot dog holly golly dagnabit" good-time spirit that rolls off his tongue like a tumbleweed in the west Texas panhandle.

As he promises in "Country As Fuck," "I ain't gotta sell my soul. If I want it then I grab it."

"I'm having fun," Cauthen says. "I've finally figured it out. I'm more settled and comfortable. I know I'm good at making records and great at entertaining. That's my gift more than anything, to be able to get up there and deliver these songs to people."

That gift is part of Cauthen's DNA, of course, from a family deeply steeped in music. Texan on both sides, his paternal grandfather went to school with Hank Williams while his maternal grandpa, who worked with Buddy Holly and the Crickets during his youth, introduced Cauthen to singing. His grandmother taught him to play piano, while his grandfather and great uncle were the song leader and preacher, respectively, of the local Christian Church of Christ.

"Yeah, I had no choice, really" Cauthen says now. "(Music) is what I call my birddog trait; You don't have to tell a birddog to jump in the river and grab the duck and bring it back to you. And you don't have to tell me to get up on stage and perform. That's what I'm supposed to do. My family enjoyed watching me perform when I was a kid; I would get up in front of everybody at Christmas with my guitar and play 'Jackson' with my grandmother. I learned my trade, y'know?"
Facebook:
https://www.facebook.com/ cauthenmusic/
Twitter:
https://twitter.com/ CauthenMusic
Instagram:
https://www.instagram.com/ paulcauthen
Website:
https://paulcauthenmusic.com/