Son Volt with Jesse Farrar of Old Salt Union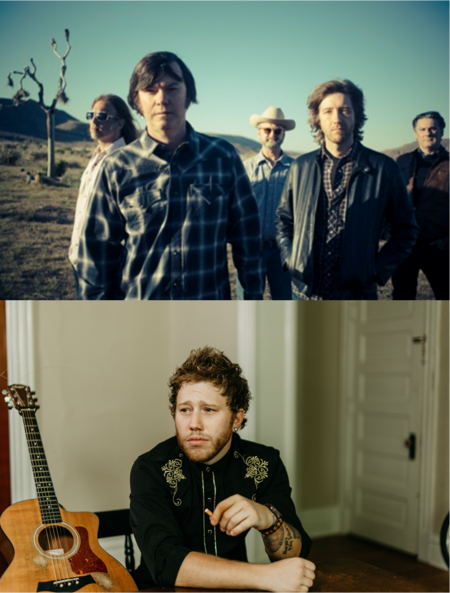 Under 21 with Guardian

On
Son Volt's
new record, Union, present and past mingle into strong confluence. The thirteen new songs written by founder Jay Farrar confront our turbulent politics and articulate the clarity and comfort music can offer in the tumult. "There are so many forces driving our country apart," observes Farrar. "What can we do to bring our society back together?"
The country and blues sounds explored by Son Volt on its last two records (2013's Honky Tonk and 2017's Notes of Blue) linger in the grooves of Union. But the new record nods to many other mile markers along the band's 25-year path. Some tunes offer a powerful return to the ringing lyrical clarity of 2005's Okemah and the Melody of Riot and 2007's The Search. Others hearken back to the freewheeling poetic melodicism of 1994's Trace and 1997's Straightaways.
"Broadsides will be hurled to capture the truth," sings Farrar on the brooding and blues-driven song that takes its name from the one-page bulletins that used to spread both proclamations and ballads. And songs such as "The 99," "While Rome Burns," and "Lady Liberty" push up the acoustic guitar in the mix to underscore the enduring role of troubadours in troubled times. "A lot of these songs are songs of turmoil," says Farrar. "Questioning what's going on."
On Union, Farrar taps into folk music's rich lyrical legacy. It's a tradition he has tapped often both in Son Volt and in Uncle Tupelo. "I was raised on folk music," observes Farrar. "Politics is a common thread there. In a time where we see threats to our way of life, and our democracy, from within, you say: What can I do? I put pen to paper and write music."
Jesse Farrar
Primary vocalist and bassist of Old Salt Union, Jesse Farrar (for the indie rock heads - yes, he's related – Son Volt front man Jay Farrar is Jesse's uncle) brings an alternative rock spirit as well as his unique formative experiences as a hip hop producer and bass player for a national tour of The Four Freshmen.
https://sonvolt.net/