Postponed - John Hiatt & The Jerry Douglas Band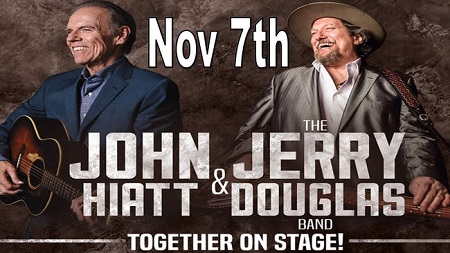 Under 21 with Guardian
10% off in gift shop the night of show*
John Hiatt
is an American singer-songwriter and musician. He has played a variety of musical styles on his albums, including new wave, blues, and country. Hiatt has been nominated for nine Grammy Awards and has been awarded a variety of other distinctions in the music industry
John Hiatt's sales have never quite matched his reputation. Hiatt's songs were covered successfully by everyone from Bonnie Raitt, Ronnie Milsap, and Dr. Feelgood to Iggy Pop, Three Dog Night, and the Neville Brothers, yet it took him 13 years to reach the charts himself. Of course, it nearly took him that long to find his own style. Hiatt began his solo career in 1974, and over the next decade he ran through a number of different styles from rock & roll to new wave pop before he finally settled on a rootsy fusion of rock & roll, country, blues, and folk with his 1987 album Bring the Family. Though the album didn't set the charts on fire, it became his first album to reach the charts, and several of the songs on the record became hits for other artists, including Raitt and Milsap. Following its success, Hiatt became a reliable hit songwriter for other artists, and he developed a strong cult following that continued to gain strength into the mid-'90s.
Dobro master and 14-time GRAMMY winner
Jerry Douglas
is to the resonator guitar what Jimi Hendrix was to the electric guitar, elevating, transforming, and reinventing the instrument in countless ways. Additionally, Douglas is a freewheeling, forward-thinking recording and touring artist whose output incorporates elements of country, bluegrass, rock, jazz, blues, and Celtic into his distinctive musical vision.
As Jerry Douglas continues his incalculable influence on country, Americana, bluegrass and their many related genres, he forges ahead as a true pioneer in American music.
https://www.johnhiatt.com/
https://jerrydouglas.com/