Ana Popovic with special guest The House Rockers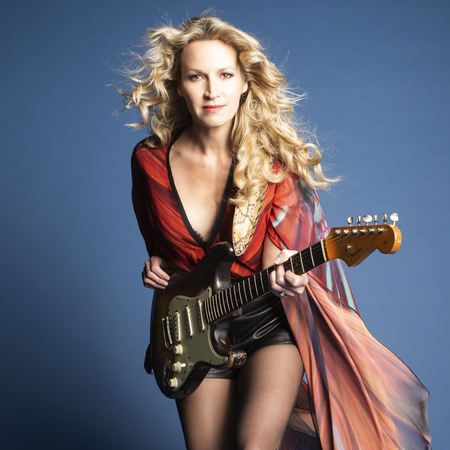 Thursday, May 6, 2021Doors: 7PM / Show: 7:30PM$22.50Under 21 with Guardian


'Ana rocks the blues in fine, fine fashion.' - Billy Gibbons (ZZ Top)
In the year that sees
Ana Popovic
celebrating 20 years as a touring musician, the award-winning guitar player, singer and songwriter releases 'Live for LIVE', an exciting hour and a half CD & DVD demonstrating why she's proudly looking back at a career of thousands of shows worldwide. This high-energy concert showcases not only Ana's mesmerizing guitar skills but also her fabulous band, successfully merging musical styles. Ana's passion on stage is so evident that the title sums it up, this IS what she lives for.
"It's really hard to believe that twenty years ago, I gave up a career in graphic design, formed the Ana Popovic band, and decided to be a full-time musician. Soon after, I traveled to Memphis to record HUSH!, my first solo release," says the hard-touring guitar slinger speaking from her home in Los Angeles. "I had big dreams back then and I still dream big today."
"Around that time, I appeared as a special guest on tour with Michael Hill. It was my first North American tour and that springboarded me to the point where today, two decades later, I can proudly look back at a career of thousands of shows over five continents. I've successfully merged musical styles and inspired a new generation of guitar players male and female to start pursuing their dreams, regardless of where they were born. Sometimes, the clichés about (music) business are right. If you work hard enough and want it bad enough, you can make anything happen."
The House Rockers
John Paul Drum
is currently traveling with a style that he has refined and redefined over the past thirtyfive years. Playing inside the Kansas City blues community for over thirty years and "Hangin'" with Kansas City's world class jazz musicians has produced a powerful force in his music and technique. Dizzying runs and monster chords provide texture and depth to the emotional swirling blues that ebb and flow from his instrument. His vocals are passionate, wry, gruff, sweet and growing. He has captured the Best Blues Band crown in Kansas City three times, but prefers to travel and perform in the cities outside his home turf. A brief tour of Europe (Barcelona, Spain; Paris and Nantes, France; Brussels and Gembloux, Belgium; Frankfurt and Hofheim, Germany) has assured his love of taking his music further afield.
Hard Electric or Sunny Acoustic blues make for rousing, entertaining and eclectic time well spent.
Patrick Recob
- Hailing from Topeka and the Kansas Flint Hills and still proud resident of Kansas calling the Metro Kansas City area home Patrick Recob has spent the past thirty years honing his craft as a touring bassist beginning as an alumni of the Gary Primich Band in the 1990s, Lee McBee & The Confessors in the 2000s, and onward as a road sideman with a stellar list of who's who of traditional Blues national act artists such as James Harman, RJ Mischo, Smokin' Joe Kubek & Bnois King just to name a select few. Sharing the stage with many well known blues artists on high profile events around the United States, he has also toured Europe with The Gary Primich Band in 1995 and Mike Morgan & The Crawl featuring Lee McBee in 2007. Recob remains active touring as a sideman and is an especially strong fixture on the Midwest scene. Since Lee McBee's passing he has fronted the Confessors since 2014 as the Sunday Night house band at BB's Lawnside BBQ in Kansas City when not on the road; a residency the band has had for 20 years.
Howard Mahan
- The band you know and love from all over Kansas. Playing the best of Classic Rock & Blues! Along with originals and funky jam sessions to keep you on you wanting more! Howard- Lawrence, KS Landon- Mahaska, KS Tim- Salina, KS
Jaisson Taylor
lives in the Kansas City area, with its rich musical heritage. He has used these influences to further his musical aspirations. This journeyman musician has taken advantage of many opportunities to play around the world, visiting Africa, Europe, Asia, North America, South America and even the North Pole. These experiences permeate every rhythm he plays.
http://anapopovic.com/home