The Burney Sisters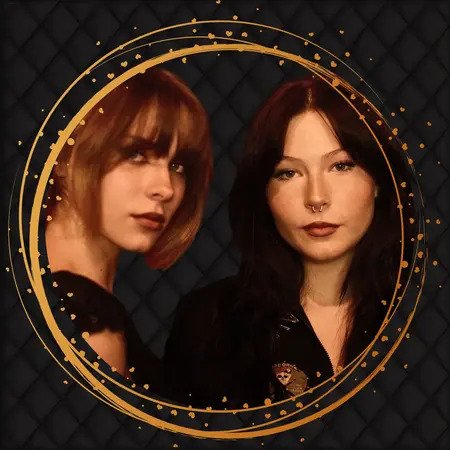 Under 21 with Guardian

Emma, and Bella Burney are a seismic sister duo with an ever-evolving folk/rock/Indie sound, and are currently based in Columbia, Missouri.
Emma dabbled in instrumental music lessons at an early age (Mainly violin), but her interest quickly waned. The traditional childhood music repertoire just wasn't her jam. Instead, she and her older sister, Olivia steeped themselves in an eclectic mix of musical genres and daily family singalongs. In this music rich environment, the girls honed their vocal skills and grew conversant with harmony. Learning to sing together was built upon "what sounded right." And it was magical. The girls' abilities grew at a pace and proficiency that immediately set them apart—even garnering them an invitation to provide backup vocals on a friend's album. That serendipitous experience proved to be pivotal. Both girls agreed that performing was fun, but now they really wanted to play "their own stuff."
Olivia began to play around on an old guitar at home, but ultimately, it was the one dollar garage sale ukulele that shifted her trajectory. It was now about carving out her own unique sound. Seeing Olivia blaze her own way was formative for Emma. Almost immediately, she picked up the guitar, followed by the bass, banjo and keyboard. And, in a beautiful twist of irony, Emma picked up her PaPa's fiddle and set her sights on learning as many traditional songs as she could. She succeeded, and she even added cello for added measure and moody texture.
In 2019, the youngest sister, Bella, decided to join her sisters by adding high harmony vocal part on a Christmas single, White Christmas. That production permanently set the stage for a 3rd microphone and sibling harmony that captures the listening ear and hearts of the audience. Not long after that single was released, her instrumental choice became the bass. She would learn on a Hofner bass, bought in part to fit her tiny frame, and as she's grown to accommodate larger basses, she now prefers a sparkly, 5 string custom Valenti, left to her by a talented local bassist and friend who passed late 2021.
The sisters debuted their first single, "Constellations", which remains one of their top streamed songs on Spotify. In 2017, their first EP, Running Away, included the popular gem "Plastic." Their follow up EP, Where We Stand was released in 2018, preceding the single, "Make Me Happy" (September 2019). It is infused with a folk rock sound and even nuances of punk, proving that the unexpected always delights. 2 more singles "Unbearable" and "Too Familiar" were released in 2020 and the trio expanded their musical taste and style yearly. Their release in August 2021, Then We'll Talk explores a bit of a 90s rock feel, and continues to reveal their inspirational muses, as their tastes and influences evolve over time.
The Burney Sisters have played stages big and small, opening for such legends as Wynonna Judd, Lonestar, Jo Dee Messina, Larkin Poe, Del McCoury, 'The Voice' alum Sawyer Fredericks,, and 'American Idol' contestant, Emi Sunshine. Playing festival stages such as Blissfest, Shoe Fest, Shipyard, Moccasin Creek, Columbia's Roots N Blues, and most notably, the Cayamo Music Cruise in 2023, cruising to the Caribbean islands of St Maarten and Tortola. This affords them exciting opportunities to play main stages, sharing lineups with artists including Jeff Tweedy, The Avett Brothers, Sheryl Crowe, and Brandi Carlile, to name just a few. In addition to venues and festivals, the sisters have developed a deep fondness for playing intimate house concerts, private meaningful gatherings, and fundraising efforts that resonate with them.
In 2023, at the age of 18, the oldest sister, Olivia, set out to forge a solo career path, and pursue other creative outlets. This left the younger sisters, Emma and Bella, to continue to build on the success of the Burney Sisters' brand. Having traveled over half the country the previous two years, the sisters are no stranger to touring and pleasing audiences far and wide. Their sights are set on touring internationally, and collaborating with their inspirations across the globe. Emma and Bella are currently working on their first EP as the duo. They are also creating extensive content for their patrons (on Patreon.com), Facebook fans, and at TheBurneySisters.com.
You can find the Burney Sisters' music on iTunes, Spotify, Google Play and Amazon. Stay connected on Facebook, Instagram, and YouTube to hear about upcoming events and Sign up on Patreon.com to get first access to new music and behind the scenes experiences of their journey.
https://theburneysisters.com/