Black Light Blues Party w/ Kris Lager, Nick Schnebelen & Rachel Ammons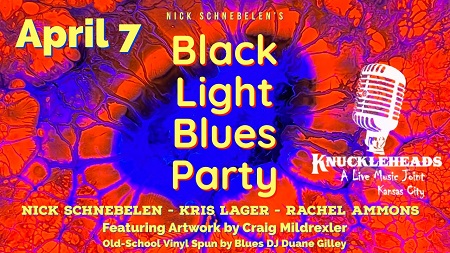 Under 21 with Guardian
Kris Lager

Kris Lager has become an underground cult hero of sorts. An uncompromising musician and charismatic performer who has cultivated a grassroots following and a career spanning over two decades. He has developed a unique 'Celebrate Life' message and mantra that emanates with every performance. A message that creates a congregation of dancing, singing, and clapping people with smiles on their faces everywhere he goes.
He has fused together his passion for blues, soul, funk, zydeco, country, and almost every other 'American Roots Music' into a contemporary and refreshing musical gumbo full of soul and spiritually uplifting rhythms and melodies.
Many people are calling him one of the finest songwriters, performers, and guitarists of his generation and for good reason too. Kris Lager's gravely voice and stirring lyrics combine the realness and authenticity of the blues with a keen sense of the human condition.
Last year World-Renowned Musician and Podcaster, Andy Frasco called Kris "His favorite songwriter!" and also said Kris has inspired a lot of his songs and his desire to have an upbeat and positive stage persona.
Multiple Grammy Award winning and Legendary Rock 'n' Roll Producer, who has mixed two of Kris' albums, Jim Gaines (Santana, SRV, Van Morrison, Steve Miller) says Kris has "A great voice and great songs!"
Paste Magazine explains the music as "The kind of toe-tapping rhythm that sometimes you just need to make it through a day."
A Lincoln native based out of Omaha, Nebraska, Kris and his band have built a reputation as a hardworking Independent band refusing to play by industry rules or pander for awards and accolades. They just hit the road and the stage with an intense purpose of expressing themselves through uplifting music while engaging and respecting their audiences.
https://www.krislager.com/


Nick Schnebelen

From 2018 to 2022, Nick Schnebelen and his band have been touring North
America as the opening act for George Thorogood and the Destroyers. Nick
clearly has the blues-rock power to fill that slot with regular standing ovations.
When not supporting Thorogood, Nick headlines his own tours in USA and
Europe. Nick got his introduction to the worldwide Blues community in 2008,
along with siblings Danielle and Kris, as a founding member of the Kansas City
band Trampled Under Foot. They overwhelmed the competition to win that year's
International Blues Challenge, with Nick claiming the Albert King Award for "Best
Guitarist". The band later won the "Contemporary Blues Album" Blues Music
Award. Nick left the band in 2014 and proceeded to release three original albums
under his own name. Nick and his band along with some special guests have
recently completed his next in studio recording, "What Key Is Trouble In?, soon
TBA for early 2023 release. This new music is the follow up to Nick's critically
acclaimed 2019 release, "Crazy All By Myself." on Vizztone.
https://www.nickschnebelenkc.com/


Rachel Ammons

HOW IT ALL BEGAN
Rachel started learning violin in public school starting around 6th grade. One of her scholarships for college included classical violin. After leaving college she returned home to work at a mental hospital temporarily, to get a feel for the field she was about to pursue her Doctorate in, Psychology. She also wanted to help her parents Klaus and Julia, naturalized German-American citizens, as her mother was a recent cancer survivor and her father an amputee. Her parents continually urged her to pay a visit to a local bar where their good friend Smilin' Bob Lewis played with a bluegrass band every Thursday. She finally went and the course of her life changed forever.
Her Mentor, Smilin' Bob
From the moment they met, Rachel and Smilin' Bob hit it off. He saw something in her and immediately assumed a mentorship/second father role. The pair was vastly different, 30 years different in age, one a young girl, the other a grizzled war veteran who had lived several lifetimes before he turned 21. They became best friends, constant companions, and bandmates. After the bluegrass band started to fall apart, Rachel discovered that Bob's real passion was his one man band. He played everything with strings and a lot of things without. Anything he touched became an instrument. He played the slide guitar and she was hooked from the first note.
She began spending all her free time steeping in his mastery of all things Delta. His soul, improvisational spirit, humor, bravery, nobility, generosity and encyclopedic knowledge of southern heritage music left an indelible mark on Rachel. The pair was practically attached at the hip, jamming for days on end in the livingroom, Rachel listening, absorbing, mimicking everything her hero demonstrated. In a couple short years she had gone from a classical violinist, still timid about improvising, to a multi-instrumentalist unafraid to try just about anything. She stopped believing in "mistakes" per Bob's instruction, and grew exponentially in all things musical. He had a special fondness for Delta and heritage music but played every style well, exposing Rachel to a vast collection of influence in their time together. They began a band they called Tyrannosaurus Chicken, and over the next years he passed on his knowledge and skills to the next generation, preserving a priceless legacy, as they began gaining a cult-like regional following and rising through festival billings.
April 2019 the pair received the devastating news that Bob had late stage lung cancer. Rachel quit playing the next few months and stayed home to care for her bandmate, who began chemotherapy almost immediately. He was the strongest person she ever knew. He endured so much suffering in his life yet he was never broken.
We lost him in late July 2019. He knew he would not be able to stay with her forever but had prepared her for this eventuality. She had started practicing her own one person band set of covers and originals at the house, under his guidance and approval.
She knew he was proud of her, and wants to continue to do what he would have wanted her to do. She and his children have started a fund to support one of his dearest causes, providing resources such as instruments and lessons to children in need.
She and Bob always wanted to use music to connect people to each other, and to make the world a better place however they could.
Rising from the shock and grief of her loss, Rachel has only become more determined to preserve Delta cultural legacy, even as she makes her own contribution. She plays a form of Blues rooted in the most primitive and raw beginnings of this heritage, with her own soulful interpretation. Her original songs and covers, sometimes changed almost beyond recognition with regard to chords and lyrics, are frequently improvisational, and share an uncontrived emotionality best seen live. During her set she follows one rule above all: Play what you Feel.
She has plans to include many more people in her musical endeavors, bringing as of yet unreleased full band compositions to life, but for now, she hones her impressive solo show with every performance, and tours as a one woman act.
https://rachelammons.com/