Sara Swenson with Special Guest Kelly Hunt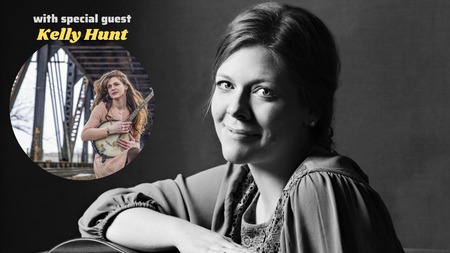 Under 21 with Guardian
Sara Swenson

Sara Swenson's newest release "I Won't Let You Feel Alone" embodies why she makes music - to bring people in and remind them of our shared humanity. In this song, as well as her others, you'll find yourself in the company of an old friend.
Originally Swenson was the high school English teacher who stumbled into a music career. Several albums and TV placements later, her work speaks for itself. Known for her warm, velvety outpouring, she uses her stripped down live sets to protect the space where her voice and lyrics steal the show.
Swenson's successes include songs featured on the prime time American drama "Private Practice" (ABC), period drama "Reign" (CW) and Canada's "Hello Goodbye" (CBC). She has performed opening sets for major artists such as Jakob Dylan, Katie Herzig, Gregory Alan Isakov, Peter Bradley Adams, and the Lilith Fair (with McLachlan, Emmylou Harris, Ingrid Michaelson and others.) She's been voted Singer-Songwriter of the Year twice in Kansas City and has toured in several major cities in the United States and the United Kingdom.
Her previous projects include a full-length record "Runway Lights" (2014) and an EP with her band, The Pearl Snaps, released in November 2011 ("Never Left My Mind.") Her other two full-length projects, "All Things Big and Small" (2010) and "Sara Swenson" (2008), have been widely loved and critically acclaimed.
http://saraswenson.com/


Kelly Hunt
On the walls of any local used music shop there hangs a gallery of mysteries. Picked up and handed down across the decades, each instrument contains the imprints and stories of those who have played it before, most of which remain untold. For Kansas City-based songwriter Kelly Hunt, the most intriguing of these stories is the origin of her anonymous calfskin tenor banjo. "I really wasn't looking for it," she says, "but I opened up the case and found a note saying, 'This banjo was played by a man named Ira Tamm in his dog and pony show from 1920 to 1935.' It was unlike any banjo I'd ever heard…so warm and mellow, with an almost harp-like quality to it, very soulful"—apt words for the Memphis native's debut album, Even The Sparrow, which was released in May 2019 and nominated for the International Folk Music Awards "2019 Album of the Year."
The daughter of an opera singer and a saxophonist, Hunt was raised in Memphis, TN amidst a motley mélange of musical influences ranging from Rachmaninov to Joni Mitchell to Mississippi John Hurt. She grew up singing in choirs, poring over poetry books, and writing her own music as a matter of course, first on piano then 5-string banjo. After being introduced to the banjo in college while studying French and visual arts, Hunt began to develop her own improvised style of playing, combining old-time picking styles with the percussive origins of the instrument. After college, Hunt embarked on a rambling path through career pursuits in farming, French breadmaking, and visual arts, ultimately landing in Kansas City, where she would go on to write and record Even the Sparrow.
This debut work displays Hunt's penchant for storytelling and intriguing arrangement, punctuated by articulate melodies and lyrical deft. While reminiscent of modern traditionalists such as Gillian Welch, Even The Sparrow reveals an ineffable quality that hovers beyond the constraints of genre, à la Anais Mitchell and Patty Griffin. Over the span of a dozen songs, Hunt's penchant for storytelling and intriguing arrangement cast a spell which No Depression describes as "the musical equivalent of a book you can't put down, one you'll want to revisit again and again to catch every nuance and turn of phrase."
In "Men of Blue & Grey," what begins as a Reconstruction-era ballad about the repurposing of Civil War glass plate negatives in a greenhouse roof soon becomes a meditation on the hope that growth and life may one day be able to emerge from the ruins of suffering and haunting of violence. "Across The Great Divide" turns an otherwise traditional accounting of spurned love into a philosophical epic of the ethics offorgiveness and freedom, evoking the ideas of Søren Kierkegaard and Walt Whitman.
As for the original owner of Kelly Hunt's mysterious tenor banjo, not much is known. "I've never been able to find anything about Ira Tamm," she says, "I think he just had a humble little traveling show." What's clear is that the itinerant performer laid down his banjo at the height of the Great Depression, almost eighty years before it would be picked up by Hunt. "That banjo has stories. I wish I knew them all," says Hunt, though the banjo's most intriguing story may just be beginning with Even The Sparrow. "The marks of Ira's hands are still in the calfskin head, so I can see where he played and left his mark," she says. "Now my own marks are there too, in different places, like a kind of portrait."
Production is currently underway on Kelly's sophomore album "Ozark Symphony," produced by Dirk Powell at his Cypress House Studio in St. Martinville, LA.
https://www.kellyhuntmusic.com/