MerleJam 2021 with Joanna Connor, Kris Lager & Stranded in the City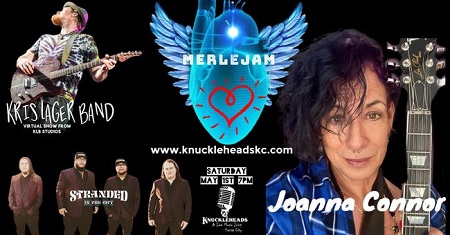 Saturday May 1, 2021Doors: 6PM / Show: 7PM$20Under 21 with Guardian

15th Annual MerleJam - 2021!
The 15th annual concert is a a celebration of the success of organ donation and helps to highlight the need for registered organ donors. Recipients, family member, donor family members and transplant professionals all join in the fun. Net proceeds from the event assist heart transplant recipients in the KC Metro area.
Life is a gift...pass it on! Donate Life!
Joanna Connor
No doubt you've seen it by now: That viral video of a woman onstage in a bright purple dress, playing one absolute scorcher of a slide guitar solo. That's Joanna Connor in her home turf of Chicago, with the firepower she delivers to local crowds on a nightly basis - but there's more to Joanna Connor than that. The disc's ten tracks include tastes of gospel, rock, soul and funk; all with the gutsy singing and heartfelt playing that have always been her trademarks.
Kris Lager Band
For most of Kris Lager's life he has been a traveling musician, a troubadour, who has spent two decades on the road honing his craft and message.
Not only is he one of the funkiest and fiercest blues guitar players you'll ever witness with a uniquely expressive and heartfelt voice. He also crafts uplifting, interactive, and spiritual tunes with a 'Celebrate Life Mantra' that is woven throughout his entire performance.
Kris is a Lincoln, Nebraska native and a family man who has built a reputation for refusing to play by industry rules or pander for awards and accolades. He is truly a one of a kind performer who hits the stage with an intense purpose of uplifting and engaging audiences while delivering his flavorful gumbo of rhythms and melodies.
www.merlejam.com
for more info.
http://joannaconnor.com/
https://www.facebook.com/krislagerband/